How To Prevent Excessive Scale Build-Up In Your Hot Water Heater
At some point in time, you have likely heard someone say "There are only two guarantees in life: death and taxes."? Well, if you have lived in South Florida long enough, you know that is certainly not the case.
For example, it WILL rain after you get done washing your car. You WILL break into a sweat the moment you step outside your house in the summer. And there will definitely be hardness in your water.
That's where we come in.
Here at Atlantic Filter Corporation in West Palm Beach, Florida, we have been helping provide our customers with the right water treatment options to solve their specific needs since 1955. Our water professionals are fully trained and certified by the Water Quality Association, making them specially qualified to resolve any concerns you may have with your water.

One of the most common concerns with water quality in West Palm Beach and the surrounding areas is, you guessed it, hardness. Unlike some other parts of our country that naturally filter out hardness – South Florida is just a giant swamp sitting on a large bed of limestone.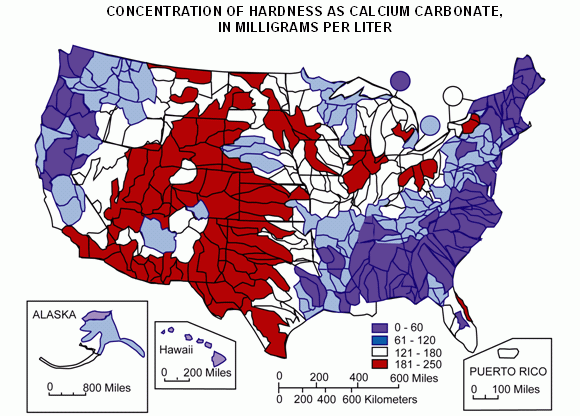 Limestone generally accounts for a large portion of hardness, with Calcium and Magnesium making up the lion's share. These are the minerals responsible for most of the water spots you see on your dishes or shower doors. This hardness is also the main cause of scale build-up on your fixtures and heating elements within your hot water heater which will lead to premature failure.

In fact, premature failing of hot water heaters has occurred more often lately for residents on city water in some areas of Palm Beach County. Even though there is no explanation yet as to why the heaters are failing so prematurely in these areas, there is a simple solution to prevent it from happening in the first place…a water softener.
You're probably asking yourself, "Well aren't water softeners only for homes with well water?" The answer to that question is NO! Although there is generally much higher levels of hardness in well water, there are still minerals that contribute to low levels of hardness in a city water supply. Over time, if the hardness isn't removed, it will eventually cause excessive build-up on the heating elements in your hot water heater.

Now that you know why your hot water heater is failing and how the scale build-up can be prevented, let us help you love your water by removing hardness with an Atlantic Filter water softener. Call us at 561-683-0100 to have your water tested by a Certified Water Specialist so we can provide you with the best water softening system for you and your family.